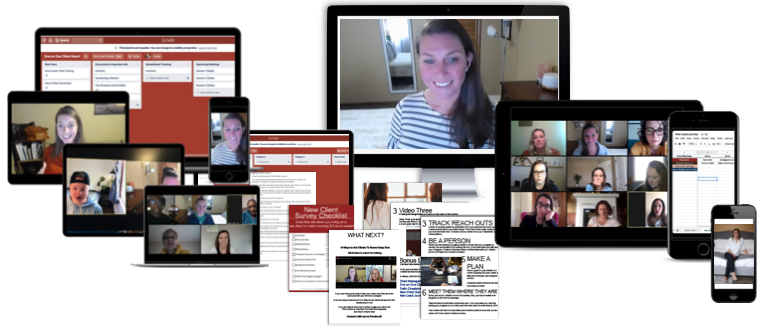 Workflow Accelerator with Group Coaching
What if you could leave overwhelm behind? What if you could narrow your focus down and actually organize your business? What if you could implement 6 foundational steps and fully organize your business? Now you can...
HERE'S WHAT YOU GET INSIDE THE PORTAL...
√ Module #1: The Blueprint Machine ($1000 Value) - Never fumble on your words what someone asks what kind of business you're in. You'll create confidence in your business and your brand along with how you create value for your customers... (Templates Included!)
√ Module #2: Lean Business Framework ($1000 Value) - Don't spend hours creating a book on your business framework. We're going to condense down the MUST HAVES for your business plan in ONE sheet. AND add-in your business culture so your values shine in your business from the very core of your business... (Templates Included!)
√ Module #3: Productivity Catalyst ($1000 Value) - Confidently create the most productive workdays that you leave feeling amazed at how much you got done each day AND spend time do the things you love WITHOUT worrying about work... (Templates Included!)
√ Module #4: "Affordable Team" Building Tools ($1000 Value) - Do you worry about bring on new team members because you don't know how to find qualified people? Grab best practices, programs, and management tools to make your life much easier... (Templates Included!)
√ Module #5: Your Organizational BFF ($1000 Value) - Skip the frustration of never knowing where to find important documents online. We're going to clean things up and streamline your organizational process to save your tons of time... (Templates Included!)
√ Module #6: The Process Generator ($1000 Value) - Step into process creation with ease so you don't have to test new systems that don't really work in your business. Then save tons of time sharing your process with your team and get more done in less time... (Templates Included!)
√ Bonus #1: Productivity Essentials Vault ($1497 Value) - The very best training on jumpstarting your productivity, creating a process that helps you work less, and the confidence to work in a system that helps you manage your entire team in 5 minutes a day. Never say you waste time at work again!
√ Bonus #2: Essential Tasks Mindset Training ($497 Value) - Do you have a hard time saying no to all the opportunities that present themselves? This can bog down your productivity and create frustration. It's time to ditch the overwhelm and learn to say YES to your business!
√ Bonus #3: Private 1:1 Onboarding Call ($297 Value) -Get a private strategy session with one of my amazing Organizational Experts. Dive into the program, your business, and the top things you need to be working on to grow your business this year. 
√ Bonus #4: Team Culture Trainings ($1497 Value) - Navigate creating amazing online team culture with ease through a series of trainings that were created after almost a decade of managing and supporting an online team. 
√ Bonus #5: Lifetime Access to Group Coaching Calls ($5000 Value) - Never feel lost and unsupported again. You don't need more knowledge, you need more implementation! Join our weekly Group Coaching Calls for LIFE!